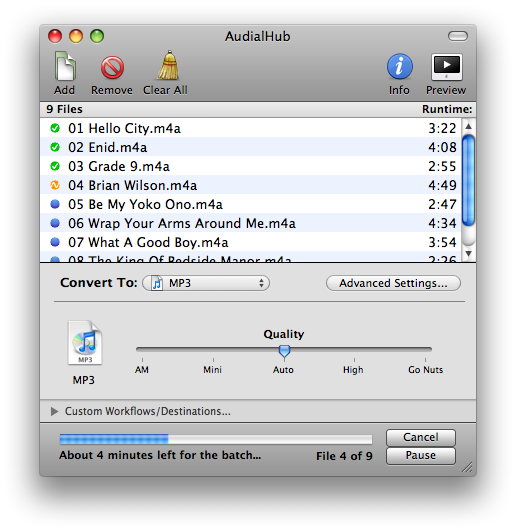 From the same company who make VisualHub comes their new audio conversion tool,
AudialHub
.
Conversion from dozens of audio types to popular formats like AAC, MP3, WMA, AIFF, WAV, Apple Lossless, 3G (cell phones), Ogg Vorbis, FLAC, and even Audio and MP3 CDs!
Audio tracks inside video files can also be converted!
Common tags (Artist, Album, etc) are automatically passed when applicable.
Up to 16 hours of audio can be converted to a single MP3 CD.
Easy-to-use Trim capabilities to narrow down short segments of audio.
Quick Preview capability to check out compression quality and Trim settings before a full conversion.
Dynamic file queue, allowing mid-conversion changes or additions, Pause/Resume, and an "always ready" Assembly Line Mode!
Run multiple simultaneous conversions in separate queues with separate settings.
Growl notifications, Dock progress indicator, and AppleScripting automation support!
Normalization, audio track selection, multiple decoder options, and direct access to add custom low-level command-line settings!
Detailed Users Guide and Help Center.
Even the price is funny: $18.81 alone or at a discount (if you bought VisualHub) of $14.41.
(btw, VisualHub was updated to v1.32 today)